Research article

Open Access
Palliative care in humanitarian crises: a review of the literature
Journal of International Humanitarian Action
2018
3:5
Received: 20 February 2018
Accepted: 27 March 2018
Published: 20 April 2018
Abstract
This paper presents findings from a systematic review of the literature (2005–2017) on palliative care in humanitarian crises (e.g., disasters, armed conflicts, epidemics). This review set out to describe palliative care needs, practices, barriers, and recommendations in humanitarian crisis settings. It contributes to current discussions within the field of humanitarian healthcare aimed at clarifying whether or not and how best to respond to palliative care needs in humanitarian crises.
Analysis of 95 peer-reviewed and gray literature documents reveal a scarcity of data on palliative care needs and interventions provided in crises, challenges of care provision particularly due to inadequate pain relief resources and guidelines, a lack of consensus on the ethics of providing or limiting palliative care as part of humanitarian healthcare response, and the importance of contextually appropriate care. These findings suggest that more research and open discussion on palliative care in humanitarian crises are needed. This review contributes to defining palliative care needs in humanitarian crises, building consensus on humanitarian healthcare organizations' ethical responsibilities towards individuals and families with palliative needs, and developing realistic and context-appropriate policies and guidelines.
Keywords
Palliative careEnd-of-lifeHumanitarian healthcareEthicsDisaster responseConflictHumanitarian crisisLow-income country (LIC) settings
Introduction
Palliative care is gaining acceptance as an important orientation for treatment in humanitarian crisis settings. A growing base of guidance and policy is developing in international aid organizations, influenced by recent examples of contexts where palliative interventions were essential in responding to patient needs. In autumn 2016, the Humanitarian Health Ethics research group in collaboration with the international group Palliative Care in Humanitarian Aid Situations & Emergencies (PALCHASE) set out to review the literature pertaining to palliative care needs and practices in humanitarian settings. This review undertook to (1) provide detailed description of reported palliative care needs in crisis settings; (2) elucidate the values, ethics, and conditions that may limit or support the provision of palliative care by humanitarian healthcare actors; and (3) synthesize recommendations on how best to integrate palliative care into humanitarian healthcare response. This review contributes to current discussions and development of recommendations within the field of humanitarian healthcare aimed at clarifying how best to respond to palliative care needs in humanitarian crises. It represents one component of a larger R2HC funded (Research for Health in Humanitarian Crises) qualitative study on palliative care in humanitarian emergencies conducted by the Humanitarian Health Ethics research group in collaboration with the Palliative Care in Humanitarian Aid Situations & Emergencies (PALCHASE) network.
Background
The possibility and importance of integrating palliative care within humanitarian healthcare have received increased attention since 2016. A number of activities in this period have marked what appears to be an historical shift towards recognizing that palliative care needs should not be ignored within humanitarian healthcare response. These include the establishment in November 2016 of a World Health Organization (WHO) working group to develop guidelines for palliative care provision in humanitarian emergencies, a research colloquium on palliative care for children in humanitarian emergencies in Geneva in November 2016, the formation in August 2016 of PALCHASE (Palliative Care in Humanitarian Situations & Emergencies)—an international network of practitioners and scholars advocating for research on and practice of palliative care in humanitarian crises, and the ongoing development of guidelines for pediatric palliative care by Médecins Sans Frontières (MSF) (Smith and Aloudat 2017) and Médecins du Monde (n.d.). The forthcoming edition of the SPHERE Handbook, if circulated drafts are an indication, will include references to palliative care needs of patients in relation to non-communicable diseases and incorporates a new chapter on the alleviation of suffering and palliative care.
While solutions to the "problem" of unmet palliative care needs in humanitarian action are being developed, the global landscape of palliative need in humanitarian crises onto which such policies and minimum standards are being inserted remains unclear. Also unclear in current action-oriented recommendations are the values and considerations that may support or limit explicit commitments to patients' palliative care needs during humanitarian crises. This literature review seeks to address these gaps in general knowledge about palliative care in humanitarian crisis contexts. Drawing on gray and scholarly literature from 2005 to June 30, 2017, we aim to provide a snapshot of needs and practices and think about the place and practical possibility of integrating palliative care in humanitarian response. Our hope is that this literature review will help anchor policy development moving forward, while acting as a baseline of thinking about palliative care in humanitarian action in 2017 that can be re-assessed in future years.
A note on our use of the term palliative care in this review
In this review, we refer to palliative care as care for all those presenting with life-limiting illness or injury, but with much greater emphasis placed on those at imminent risk of dying or identified as being at the end of life. It also includes those who require symptom control and supportive care while awaiting potentially curative medical intervention. This usage of palliative care is more specific than the WHO definition (2018), but reflects the most common applications of the term in the literature we reviewed.
Methodology
Source identification and retrieval
The review encompassed both scholarly and gray literature. We searched the following bibliographic databases for relevant English and French articles published between the years 2005 and the present: OVID MEDLINE Epub Ahead of Print, In-Process & Other Non-Indexed Citations, OVID MEDLINE (R) Daily and OVID MEDLINE (R) 1946-Present; Embase 1974-Present; OVID PsychInfo 1806-Present; Web of Science; and CINAHL. The year 2005, as opposed to January 2007 which would allow for a more conventional 10-year date range, was used as the starting point for the literature review given that our team is particularly interested in humanitarian healthcare ethics. It is in the wake of Hurricane Katrina (September 2005) that a number of scholars began to publish on the ethical imperative of providing, or not, for palliative care needs in the aftermath of disasters worldwide.
The search strategy applied to the databases included a broad range of database appropriate subject headings: "palliative care," "disasters," "conflict," and "war," as well as additional keywords such as "terminal care" and "dying." The search strategy as used in OVID MEDLINE, including MeSH and keyword terms, can be consulted in Appendix 1. To triangulate the search, identified articles were cross-checked against findings in Proceedings First and a natural language search in Google and Google Scholar. For comprehensiveness, reference lists of relevant articles were scanned to identify supplementary citations.
To identify potentially relevant gray literature, we searched key websites that bring together resources and publications put out by humanitarian organizations (ReliefWeb and Inter-Governmental Organizations or IGO), as well as the websites of major humanitarian healthcare organizations (Table
1
). Search terms for the identification of gray literature included "palliative care" or "end of life care" combined with contextual terms, including "disaster," "humanitarian aid," or "crisis."
Table 1
Organization websites used to strengthen and triangulate gray literature search
| Organization | Website |
| --- | --- |
| ALNAP | |
| Catholic Relief Services | |
| Christian Aid | |
| International Federation of Red Cross and Red Crescent Societies | |
| International Rescue Committee | |
| Médecins du Monde | |
| MSF International | |
| Save the Children | |
| UNHCR | |
| UNICEF | |
| World Health Organization | |
After removal of duplicates (
N
 = 1841), results were reviewed first by title and abstract, then by reading their full text, to see if they met the inclusion and exclusion criteria. The inclusion criteria required that the source discuss healthcare provision with reference to at least one humanitarian crisis in a low- and middle-income country (LMIC) and explicitly address palliative populations, patients, or care provision in such contexts. In our use of the term, humanitarian emergencies included rapid onset disasters, war and conflict settings, and public health emergencies (including epidemics). We excluded literature solely concerning disaster response in high-income countries (HIC), rehabilitative care, post-death psychological care and family bereavement, and management of the dead. We also excluded conference abstracts, blogs, and newspaper articles. Figure
1
represents source identification methods and results progressing through the different stages of the review process.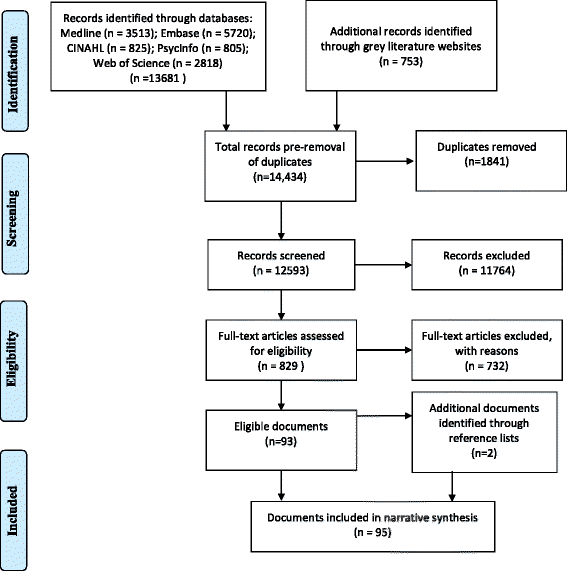 Analysis
Sources meeting inclusion criteria were uploaded to QSR International NVivo 11.0. A preliminary coding matrix based on our key objectives formed the basis for initial, first-level coding. This codebook evolved following independent coding and comparison of article sets and identified themes by three members of the analysis team (authors 1, 2, and 6). Audit coding, to ensure accuracy and consistency, was performed by the first author (author 1), an experienced qualitative researcher. In the audit coding process, some theme names and definitions were revised. The resulting final codebook (Table
2
) underlies the present synthesis.
Table 2
Final codebook in Nvivo 11.0 organizing literature for synthesis
Key theme identified in literature

Sub-theme (where applicable)

Palliative care definitions

Who is defined as needing palliative care

 Current practices

Current palliative care training and education

Disaster or mass casualty triage

Existing guidelines with limitations

Improvisation and flexibility

Lack of preparedness

Limited resources

Other challenges

 Ethics or what is at stake

Competition for resources

Euthanasia

Medical and ethical good debated

 Rescue culture

Moral distress

Palliative care as a right

Palliative care as an ethical opportunity

Public trust

 Recommendations

Clarify triage and palliative care guidelines

 Vulnerable populations

Context sensitive approach

Evidence-based practice

Imperfect ok

Leadership

Measurable impacts

Minimum standards

Training and preparedness

 Community preparedness

 Ethics guidance

 Evacuation

 Legal framework

 Medication needs

 Place to die

 Support for moral distress

What and how to do still unclear
Findings
From an initial 14,434 records, a total of 95 articles, reports, and guidelines were eventually retained for full analysis (61 from bibliographic databases, 32 from the gray literature, and two identified based on references lists of retained sources and fitting inclusion criteria). The geographical locations and types of humanitarian crises covered in the literature encompass a spectrum: from natural disasters such as earthquakes and tsunamis, to conflict and refugee contexts, to epidemics. Famine did not feature in any of the sources reviewed, which is striking given the high fatality rates that often result in famine contexts. In terms of patient populations in need of palliative care in crises, those (most prominently or frequently) mentioned in the literature include burn and crush victims, individuals with advanced stage kidney failure, the frail and elderly, children, individuals with life-limiting diseases such as HIV (human immune deficiency virus) or physical disabilities, and Ebola-infected individuals.
In what follows, we present a synthesis of what the literature reveals about palliative care in humanitarian crises. Drawing upon the review's initial objectives while also being responsive to what emerged in the literature, this synthesis is divided into four sections: (1) the complexity of defining palliative care needs in humanitarian crises, (2) characteristics of palliative care provision in humanitarian crises, (3) ethical rationales and potential objections to providing palliative care in humanitarian crises, and (4) recommendations for best practices of palliative care in humanitarian crises.
Conclusion
Many authors over the last decade have called for better preparedness and care delivery for people who will present during crisis with non-survivable injuries, life-limiting health conditions, or diseases. This literature review provides a snapshot of the state of these discussions in the scholarly and gray literature. It has been prepared at a time when major humanitarian actors are grappling with whether or not, how, and on what bases the provision of palliative care can and should be added into guidelines and policies for humanitarian healthcare.
Key findings include that there exists a lack of evidence beyond anecdotal accounts of palliative care needs and provision in humanitarian crises; that need for palliative care in a crisis can be hard to establish and is contingent on multiple and often shifting factors, including pre- and post-disaster morbidity rates in crisis-affected populations, availability and accessibility of healthcare resources, location, and stage of the crisis; and that palliative care that is provided typically occurs in sub-optimal conditions due to a lack of training, guidelines, and resources. There is a prevalent opinion in the literature that it is ethically and practically important for humanitarian healthcare teams to be better prepared to respond to palliative care needs. Whether or not global minimums are realistic remains to be seen given the limited resources for life-saving care in many LMIC crisis settings, and the diversity of cultural beliefs and potential preferences for end-of-life care across the globe. Also to be determined is how such minimums can be effectively and systematically implemented, funded, and evaluated.
Developing evidence-based best practices for palliative care in humanitarian crisis moving forward requires further research and evaluation of any new guidelines or programs. Epidemiological assessments of need in specific settings, clinical trials of interventions, as well as socio-anthropological studies on affected population expectations and experiences of palliative care can help clarify what resources and interventions might be most effective in specific contexts, and shed light on context-appropriate strategies for providing training and supports in palliative care for crisis settings. There is a need for detailed accounts of what care is currently being provided to palliative care patients. There is also a need for what crisis-affected populations consider feasible and acceptable palliative care in specific contexts, what ethical arguments are being advanced for expanding (or not) palliative care during crises, and what impact such initiatives have on patients and their families, providers, and resources in particular settings. Further discussion and debate may also be needed to build consensus on which palliative care needs should be addressed in particular crises and what policy approaches should be prioritized. Palliative care is equated with end-of-life care in most of the literature that we reviewed. Whether or not end-of-life care should be the extent of any palliative care provided in crises merits further consideration in our view.
Even if care for the dying in humanitarian emergencies is improved and recommendations adopted in the next years, complex situations will continue to arise: limited ability to predict the evolution of patient diseases that threaten life in complex and limited resources settings; the continuous rotation of health staff with different experience levels, knowledge, and perceptions of palliative care in crisis contexts, or the inability to secure minimum standardized pain relief due to political complexities of doing so. As Rosoff (2010) points out, humanitarian healthcare teams committed to providing palliative care will need to have more than one plan. There is what should be and then what could be acceptable if alternatives are needed.
Abbreviations
C3DC:

Cornerstone of Cultural Competency During the Disaster Cycle
ETCs:

Ebola Treatment Centers
EVD:

Ebola virus disease
HIC:

High-income countries
HIV:

Human immune deficiency virus
IGO:

Inter-Governmental Organizations
LMIC:

Low- and middle-income countries
PALCHASE:

Palliative Care in Humanitarian Aid Situations & Emergencies
PCA:

Patient-controlled analgesia
PPE:

Personal Protective Equipment
UN:

United Nations
WHO:

World Health Organization
Declarations
Acknowledgements
The authors would like to thank our colleagues from the Palliative Care in Humanitarian Aid Situations & Emergencies (PALCHASE) group, in particular, Joan Marston, Tony Powell, Mila Petrova, and Brett Sutton, who affirmed the need for this review and provided valuable feedback on its objectives at the outset. We would also like to thank Carrie Bernard, Lynda Redwood-Campbell, and Laurie Elit for helping us think through the ethical complexities of palliative care provision in humanitarian crises, as well as Leigh-Anne Gillespie for her invaluable help in preparing this manuscript for publication.
Funding
This article was completed as part of a larger research project on Palliative Care in Humanitarian Crises, funded by an Elrha Research for health in Humanitarian Crises (r2hc) grant (#19775). Matthew Hunt is supported by a Research Scholar Award from the Fonds de Recherche du Québec–Santé.
Availability of data and materials
N/A.
Authors' contributions
EN led the design of the review, oversaw the coding of bibliographic sources, completed an audit coding of all materials, prepared a first and all subsequent drafts, and coordinated the contributions of all co-authors. MS conducted the collection and screening of gray literature for this review, provided a synthesis of gray literature results informing the review, and drafted several paragraphs in the manuscript. KB helped design the search parameters for the review based on clinical and field experience and contributed input to strengthen all versions of the manuscript. GK provided technical support on the review of the literature from bibliographic indexes and supported the synthesis of the results. MH helped design the search parameters for the review and contributed input to strengthen all versions of the manuscript. SdL provided technical support on the review of the literature from bibliographic indexes and contributed input to strengthen versions of the manuscript. SS provided assistance in designing the search from bibliographic indexes, retrieved all titles from bibliographic indexes under the supervision of Laura Banfield, and drafted the methods paragraph related to this process. LB provided assistance in designing the search from bibliographic indexes and reviewed description of search methodologies for quality and comprehensiveness. PFER supported the analysis of articles related to Ebola and provided input on drafts of the manuscript. LS helped design the search parameters for the review and contributed input to strengthen all versions of the manuscript. All authors read and approved the final manuscript.
Competing interests
The authors declare that they have no competing interests.
Publisher's Note
Springer Nature remains neutral with regard to jurisdictional claims in published maps and institutional affiliations.
Open AccessThis article is distributed under the terms of the Creative Commons Attribution 4.0 International License (http://creativecommons.org/licenses/by/4.0/), which permits unrestricted use, distribution, and reproduction in any medium, provided you give appropriate credit to the original author(s) and the source, provide a link to the Creative Commons license, and indicate if changes were made.
Authors' Affiliations
(1)
School of Health Studies, Western University, London, Canada
(2)
Michael G. DeGroote School of Medicine, McMaster University, Hamilton, Canada
(3)
Northern Ontario School of Medicine, Lakehead & Laurentian Universities and Thunder Bay Regional Health Sciences Centre, Thunder Bay, Canada
(4)
Humanitarian Healthcare Ethics Research Group, McMaster University, Hamilton, Canada
(5)
School of Physical and Occupational Therapy, McGill University, Montreal, Canada
(6)
Department of Health Research Methods, Evidence and Impact, McMaster University, Hamilton, Canada
(7)
Faculty of Health Sciences, McMaster University, Hamilton, Canada
(8)
Médecins du Monde, Paris, France