Click to learn more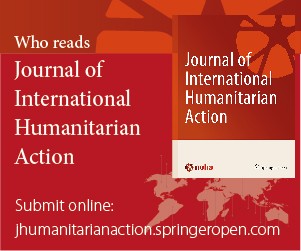 Aims and scope
Humanitarian action is a fast-paced field that demands a modern online journal that is multi-disciplinary, responsive, timely, and open access. The Journal of International Humanitarian Action provides a forum for practitioners, policy-makers and academics to highlight contemporary challenges, to critically reflect upon current practices, and to ultimately advance the field of humanitarian action.
Additional Call for Papers: Special Collection on Humanitarian Technology
​​​​​​​
Humanitarian actors have long adopted and adapted technology to improve aid delivery and protection practices. But beyond asking what technology does for humanitarian action, this Collection will explore what it does to humanitarian action. Read more, submit your paper here, and choose "Humanitarian Technology" from the thematic series drop-down menu.
ISSN: 2364-3404 (electronic)
Follow
Annual Journal Metrics
Speed
64 days to first decision for reviewed manuscripts only
42 days to first decision for all manuscripts
119 days from submission to acceptance
32 days from acceptance to publication


Usage
48,545 downloads
643 Altmetric mentions