Crisis analytics: big data-driven crisis response
Journal of International Humanitarian Action
2016
1:12
Received: 13 April 2016
Accepted: 26 July 2016
Published: 17 August 2016
Abstract
Disasters have long been a scourge for humanity. With the advances in technology (in terms of computing, communications, and the ability to process, and analyze big data), our ability to respond to disasters is at an inflection point. There is great optimism that big data tools can be leveraged to process large amounts of crisis-related data (in the form of user generated data in addition to traditional humanitarian data) to provide an insight into the fast-changing situation and help drive an effective disaster response. This article introduces the history and the future of big crisis data analytics, along with a discussion on its promise, enabling technologies, challenges, and pitfalls.
Keywords
Big dataCrisis response
Introduction
Motivation
According to Solnit 2009 disasters, besides being devastating, can bring people closer that consequently creates an altruistic community where people help each other and fight the ongoing calamity together. Here, we take the example of Haiti earthquake to provide motivation for big data driven crisis response and the formation of a community powered by digital technology that helped the affected people of the earthquake. In 2010, Haiti faced a devastating earthquake that left a huge number of people dead and many homeless. Humanitarian aid was predominantly delivered in a different manner that time, which was mostly driven by digital technology. The concept of digital humanitarianism (Meier 2014) became popular after this incident. Digital humanitarians (the people who participate or volunteer to deploy technology for the humanitarian aid) used a number of emerging technologies—e.g., read-write web, big data analytics, participatory mapping, crowdsourced translation, social media, and mobile technology (we will discuss these in detail in the upcoming sections of this paper)—to catalyze an effective response after the Haiti disaster.
Huge volume of data related to the crisis—including short message service (SMS) from onsite victims, social media data from citizens, journalists, and aid organizations—was subsequently collected. Sifting through the voluminous "big crisis data" (big data collected during a crisis situation (Meier 2014)) to find information about the affected population was a challenging task. This challenge was tackled by the digital humanitarians by employing techniques such as crowdsourcing to acquire data and producing crisis maps. The online-crowdsourcing platform used to collect data for the Haiti earthquake was Ushahidi 2016. Ushahidi provides a mobile-based platform for developing "crowd maps" through collecting, visualizing, and mapping citizen-supplied (or crowdsourced) data. After Haiti, we observe that data and technology driven disaster response has become a norm. This led to the emergence of a new kind of distributed intelligence: Disaster Response 2.0 (Crowley and Chan 2011).
The humanitarian aid and emergency response is not limited only to situations involving natural disasters. Data-driven digital humanitarianism is changing the face of humanitarian aid and development in a wide variety of fields: be it (1) a migration/refugee crisis (e.g., the Syrian migrants crisis); (2) an epidemic crisis (such as the dengue crisis in Punjab, Pakistan); (3) a natural disaster (such as the Haiti/Kashmir Earthquakes); (4) crowd control problems (such as the Mina crush crisis in Hajj 2015); (5) terrorist attack (such as the Peshawar, Pakistan school attack); (6) civil wars (such as in Iraq and Syria); (7) public violence (such as post election violence in Kenya); and (8) other disaster situations (such as public disorder, industrial accidents, and infrastructural failures).
The importance of disaster response in the perspective of big data and technology can be realized by the fact that the 2013 World Disasters Report (Vinck 2013) dedicated itself to the topic of humanitarian information and communication technologies (HCIT). It highlights the importance of various enabling technologies ranging from mobile phones and social media to big data. It discusses different case studies where these technologies can be used for the effective disaster response and management along with various challenges that these technologies entail. Next, we discuss different stages of a crisis and what role data plays in each of these.
Crisis life cycle
The overall crisis life cycle can be divided and analyzed into three stages (Fig.
1
) namely before, during, and after a crisis. Let us call the first stage
Pre-Crisis Preparedness
that deals with the in-advance preparation of a potential crisis (in terms of logistics, planning, and warehousing of emergency relief goods regionally and internationally) along with efforts for disaster risk reduction (Twigg et al.
2004
). Big data analytics can be useful in this stage for emergency prediction either before the initiating event (such as an earthquake/tsunami) or as part of the unfolding of an ongoing crisis (such as prediction of the refugees' flow in the aftermath of a natural disaster such as the Haiti earthquake). Any efforts focused on preventing impending crises will also be part of this stage.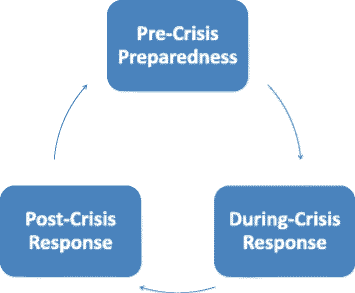 We call the second stage During-Crisis Response and it deals with coordination (among aid agencies) in the aftermath of a crisis to address any gaps or overlaps that may be affecting the effectiveness of the response. This stage also involves adjusting and monitoring aid to ensure accountability and effective dispatch of resources so that it is available at the right time and at the right place.
Finally, we term the third stage Post-Crisis Response that deals with reporting, auditing, and accounting of the overall humanitarian response. This stage looks at the crisis response in a more comprehensive, analytical and insightful way so that lessons are learnt and insights developed for any future crises. Big data can help ascertain the efficacy of relief work and make it more accountable by using actively acquired data (gathered through, e.g., unmanned aerial vehicles (UAVs) or social media). Big crisis data analytics has the potential to transform all the stages of a crisis life cycle (i.e., pre-, during-, and, post-crisis) and can be useful for emergency prevention, preparedness, response, and recovery. Next, we summarize how our discussion in this paper is structured.
Road map
The focus of this article is on reviewing how big data analytics and digital technologies can be used to respond in emergencies in ways that can mitigate or even avoid a crisis. In Section "Big data and crisis analytics", we first explain what big (crisis) data is and how we can acquire it. In Section "Enabling technologies", we discuss modern technologies along with machine learning techniques that enable data-driven crisis analytics. In Section "The big crisis data ecosystem and case studies", we present how the modern world is reshaping itself to create an ecosystem where crises can be fought based on big data along with two case studies that highlight the importance of such an ecosystem. In Section "Why big crisis data analytics is challenging?", we discuss different challenges in the way of bid data-based crisis response. After presenting future directions in Section "Future directions for big crisis data analytics", we finally conclude our paper in Section "Conclusions".
Big data and crisis analytics
In this section, we first discuss, in detail, what is meant by big data. Why it is gaining so much importance these days; how it is collected, stored and used in the perspective of crises and humanitarian emergencies. At the end of this section we explain what we mean by crisis analytics, which is basically deploying different analytical and machine learning techniques on the big data collected during a crisis situation.
What is big data?
In the modern world, we are inundated with data as the massive amounts of public data is being generated on a daily basis (James et al. 2011). The glut of data is further increasing exponentially due to the rapid proliferation of mobile phones and the increased digitization of all aspects of modern life due to technologies such as the Internet of Things (IoT); which deploy sensors, for example in the shape of wearable devices, to provide data related to human activities and different behavioral patterns. The commoditization of data collection with the advancement in digital technology has led companies to collect all kinds of data, such as the digital trail of an online user, the transaction history of a customer, and the call details record (CDR) of a mobile-phone user. Companies such as Facebook, Google, Twitter, Yahoo, and Microsoft routinely deal with petabytes of data on a daily basis. It is estimated that we are generating an incredible 2.5 quintillion bytes per day (Siegel 2013).
In order to understand what is new about big data based crisis analytics, we will have to understand, first, what big data is. "Big Data" refers to our emerging ability to collect, process, and analyze massive sets of largely unstructured data—e.g., word documents, emails, blog posts, social, and multimedia data that can not be stored in an organized fashion in relational databases (Leavitt 2010)—from a multitude of sources to find previously inaccessible insights. With the transformative role, big data has played in diverse settings, there is a lot of interest in harnessing the power of big data for development and social good. We can define big data to be data that exceeds the processing capacity of conventional database and analytics technology (in that the data is unstructured, too large or too fast). Now, we briefly discuss modern database technology that is being used to store big data.
Database technology for big data
As mentioned before, big data is dominantly unstructured data. The traditional relational databases can not store such data, which require data to be structured (that resides in fixed fields, e.g., spreadsheets) and stored in a conventional relational sense. A novel approach is required to store and access unstructured data. NoSQL (or non-relational) databases have been developed for the said purpose (Leavitt 2010). As compared to relational databases, NoSQL databases are distributed and hence easily scalable, fast, and flexible. Big companies also use NoSQL databases, like Amazon's Dynamo (DeCandia et al. 2007) and Google's Bigtable (Chang et al. 2008), for data storage and access. One potential downside, though, in using NoSQL databases is that they usually do not inherently support the ACID (atomicity, consistency, integrity, and durability) set (as supported by the relational databases). One has to manually program these functionalities into one's NoSQL database. Now, we describe what we mean by the term big crisis data.
Big crisis data
Big crisis data refers, simply, to big data collected during crises or mass emergencies. Big crisis data, just like big data, can be of two types: structured and unstructured (with the latter being predominant). It has been suggested that the biggest gap in big crisis data informatics currently is in the extraction of structured information from the huge amount of unstructured information. Big data analytics is well-suited to deal with unstructured data: in fact, a major motivation of its development is the fact that traditional data tools are inflexible about structure and cannot process unstructured data well. In the following two subsections, we will first study the various sources of big crisis data followed by how big data analytics can be used to process this avalanche of information.
Sources of big crisis data
Here, we consider six different types of big data sources that, broadly speaking, principally drive the big crisis data revolution. These include data exhaust, online activity, sensing technologies, small data/MyData, public/governmental data, and crowdsourced data. This is illustrated in the taxonomy presented in Fig.
2
. In this figure, apart from the data sources, the enabling technologies, future directions, pitfalls, and challenges of crisis analytics (introduced later in this paper) are also shown.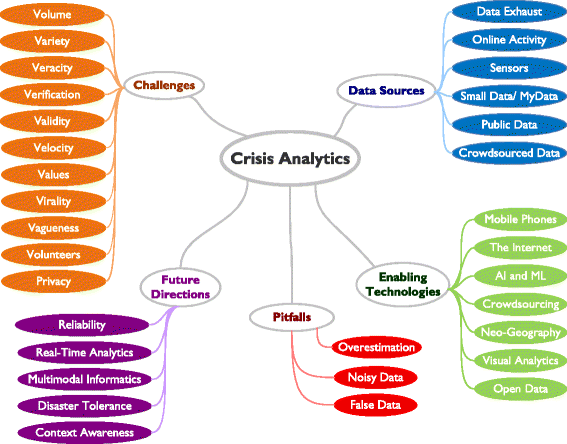 Big crisis data analytics
First, we describe big data analytics that is a field that combines faculties from computer science, statistics, signal processing, data mining, and machine learning (in particular, techniques for computational linguistics (see Section "AI/ML domain areas relevant for crisis informatics"), geospatial technologies, and visual analytics), to mine insights from big data. The big crisis data analytics, broadly speaking, aims to leverage big data analytics techniques, along with digital platforms (such as mobile phones/Internet), for efficient humanitarian response to different crises. There are many thematic applications of big crisis data including (1) data-driven digital epidemiology (in which public health research is conducted using CDRs and social media) (Salathe et al. 2012); (2) population surveillance and urban analytics (Boulos et al. 2011) (in which big crisis data is used for tracking the movement of crisis-affected population during a crisis); (3) crisis informatics and sociology (Palen et al. 2007) (in which data, along with participatory mapping and crowdsourcing technology, is used for analyzing the sociological behavior of the affected community through behavioral inference and "reality mining"—that is data mining to extract and study social patterns of an individual or a group of individuals).
We can also consider the various different big crisis analytics tasks that can be performed on big crisis data such as (a) various discovery tasks—e.g., clustering (to obtain natural groupings), outlier detection (to detect any anomalies), or affinity/correlation analysis (to detect co-occurrence patterns); and (b) various predictive tasks—such as classification (in which a category is predicted), regression (in which value of a continuous variable is predicted), and finally recommendation (in which some preference is predicted).
Enabling technologies
After explaining big crisis data, various sources that generate this data and big crisis data analytics, we are in a position to discuss various enabling technologies and techniques that either generate data or help in analyzing it. These technologies are shaping today's age in which data driven crisis response and humanitarian development are being considered the future of human progress and wellbeing. Table
1
can be consulted to gain an insight into the relation between different big crisis data sources (discussed in the previous section) and corresponding enabling technologies and example scopes where (big data driven) actionable knowledge can be applied.
Table 1
Big crisis data sources and enabling technologies
| Enabling technologies | Example(s) | Example scope(s) |
| --- | --- | --- |
| Data source: data exhaust | | |
| Mobile phones, machine learning | Call detail records (CDRs) | Epidemiology, social network analysis |
| Data source: online activity | | |
| The internet, machine learning | User-generated data (e.g., emails, comments, search engine and social media activity) | Sentiment analysis, opinion mining, search and rescue |
| Data source: sensing technologies | | |
| IoT, data visualization, machine learning | Satellites, UAVs, sensor networks, wearable devices | Social behavior and enviornmental analysis |
| Data source: sensing technologies | | |
| IoT, the internet, machine learning | Wearable devices, social media | Healthcare (e.g., personalized medicine) |
| Data source: public data | | |
| Open source and open data, machine learning | Governmental data (e.g., census, public health and transportation data) | Effective policy making |
| Data source: crowdsourced data | | |
| Crowdsourcing, Data visualization, neo-geography, machine learning | Crowdsourcing platforms (e.g, Ushahidi) | Crisis maps |
The big crisis data ecosystem and case studies
The humanitarian response ecosystem principally includes two kinds of actors. Firstly, traditional humanitarian groups, which include groups such as the International Committee of the Red Cross (ICRC), United Nations Office for the Coordination of Humanitarian Affairs (UNOCHA), United Nations High Commissioner for Refugees (UNHCR), as well as non-government organizations (NGOs) like Doctors Without Borders (also known as MSF), World Vision, and Care International etc. Secondly, digital humanitarian groups, exemplified by the DHN —which was activated by the UNOCHA—whose aim is to empower a technology-enhanced 21st century humanitarian response; this is achieved by forming a consortium of volunteer and technical communities (called V&TCs) (Initiative et al. 2010), which then interface with formal humanitarian organizations to aid their response.
More specifically, the digital humanitarians can assist in coping with the big crisis data overload by tracking media (e.g., by monitoring social networks); software development for producing programs to organize and streamline crisis response; performing statistical analysis on data; mapping data; and translating local crowd media so that its accessible more broadly. A number of V&TCs exists such as Translators Without Borders (Translators without borders), Geeks Without Bounds, Datakind and ESRI etc. In addition, a number of technology-focused organizations (such as the SBTF 2016, OpenStreetMap 2008, GISCorps, CrowdFlower 2016d, Crisis Mappers 2016b, Crisis Commons 2016a, MapAction) have sprouted up that utilize big crisis data techniques for remotely accelerating humanitarian assistance through a hybrid of technology, collaboration, and volunteerism.
Also relevant to big crisis data analytics are the many big data for development initiatives that focus on mining, understanding, and harnessing data for improving the world in both crisis settings (e.g., by providing data-driven assistance) and non-crisis settings (e.g., for battling hunger and poverty). Such initiatives overlap with the digital humanitarian initiatives and include (1) social computing groups (such as the UN Global Pulse, and QCRI); (2) groups initiated by for-profit companies (such as Google.org—through it's Google Crisis Response, Google People finder, and Google Crisis Map projects, and Microsoft Research); and (3) academic humanitarian initiatives (the MIT Humanitarian Response Lab, and, Harvard Humanitarian Initiative and Peace Informatics Lab in The Hague, Netherlands); and (4) non-profits such as DataKind (formerly, Data without Borders).
We now discuss two case studies: the first case study is about the ongoing migrant crisis that is caused by civil war in Syria. Secondly, we discuss the application of big data in the filed of healthcare. These case studies highlight the important positive role that big data plays in mass emergencies and humanitarian wellbeing and shed light on the importance of the development of an effective big data-driven crisis response ecosystem.
Case study: migrant crisis
Here, consider a case study of the recent migrant crisis—brought squarely in the world's limelight by the case of Aylan Kurdi. Aylan, a three-year old Syrian toddler, was tragically found lying face down on a Turkish beach in 2015. He was washed ashore lifeless after he, led by his mother and brother, had attempted in desperation to reach the Greek island of Kos in a dinghy. The heart-wrenching image of Aylan, which rocketed around the world through social media, galvanized considerable public attention to the refugee crisis, highlighting the extraordinary risks migrants take to escape various crises. Aylan was able to attach a human face to the problem of migrant crisis, helping vitalize the international response to the problem. Around the world, there are millions of refugees (including many kids like Aylan) taking comparable risk to flee from war/violence to safer pastures. The various stakeholders around the world are looking towards big data technology to play an important role in thwarting human tragedies.
Aleppo, the industrial capital of Syria, is one of the most affected cities in the conflict. Neighborhoods all over the city are divided among, and under the control of, Syrian government, militia and rebel parties actively engaged in fighting with one another. This act has caused many civilian casualties and displacement. Before any response, it is imperative for the aid agencies to get the sense of the dynamics of such a region. If the conflict is mapped properly, only then the right aid can flow into the right regions in time. Caerus Associates, a research consultancy entity, with the technological help from First Mile Geo, which provides online data collection, analysis and sharing services, mapped the dynamics of the conflict in Aleppo in 2014 (Caerus 2014; Mapping the conflict in Aleppo 2014). Caerus deployed a team of locals, equipped with tools connected to cloud storage services, to survey local residents of the city of Aleppo over the period of 4 months (September 2013 to January 2014). This survey included the opinion of people about the government and rebel forces, position of checkpoints (established by government and rebels at different roads of the city), status of bakeries and the status of a neighborhood (in terms of which entity controls it). All the data was analyzed through First Mile Geo and a hyper-local time-series map of the region came out as a result. This map showed the people's opinion about who is right in their claims in this conflict (to which a vast majority said "no one"), strongholds of rebel forces (which spread in the eastern side of the city) and government (largely in the western side of the city). More details on this project, and the related interactive maps can be seen at the link provided in reference (Caerus 2014), the data collected for this project is also available to download for research purposes.
This information provides the status of the political situation of the city. The information about the checkpoints tells about the public movement, which is strictly controlled and restricted through these checkpoints. During the conflict, the government forces particularly attacked the bakeries in the rebel-held areas. This resulted in food shortages. People in the rebel-held area had to resort to indirect means and routes to obtain bread to survive. The information related to bakeries combined with that related to checkpoints let the aid agencies know about possible areas where there is, or will be a, food shortage.
May people are displaced, from all over Syria, who are forced to leave their country in search of immediate shelter and assistance. The most likely target for the refugees to go to are the countries in the immediate neighborhood of Syria. Jordan (Syria's neighbor in its South) hosts more than half a million Syrian refugees. It is critical that the right and real-time information about the location, type, and capacity of aid agencies are communicated to the refugees. Such type of information is important for the humanitarian organizations as well. Through this information each agency could know what other agency is working on so that double response to the same problem can be avoided. About 60 such agencies have been in Jordan to assist the incoming Syrian refugees.
Besides Jordan, a large number of people are traveling to the European countries often through dangerous land and marine routes. Many go missing, and unfortunately a few also die during this process. It becomes very difficult to reconnect the separated people of a family. Reconnecting is especially rendered difficult, as the displaced people mostly remain mobile, moving from one place/camp to another. There are also delays and language barriers in registration processes. To overcome this difficultly, at least to some extent, an initiative taken by the Red Cross society by the name of Trace the Face (Trace the Face). This is a website that collects data in the form of photographs and publishes photos of the people who are looking for their families and the missing people whose families are looking for them. Besides being published online, these pictures are printed on posters that are hung all over Europe especially in places where the migrants gather. In this way, the broken family links are restored through crowdsourcing.
Case study: healthcare
We now highlight the importance of big data and the establishment of a data driven healthcare ecosystem. As it usually happens that a patient might be seeing different specialists for, seemingly, different medical reasons. These specialists, then further, can prescribe different types of clinical tests resulting in different kinds of results. If, however, some protocol or a system is developed to integrate these fragments together and run analysis on them collectively then a clear and big picture of a patient's current health can be extracted. If the issue of fragmentation (Elhauge 2010) (i.e., data having heterogenous formats and residing at potentially disconnected silos) is resolved then this can not only speed up the diagnostic process but also has the ability to provide personalized treatment (realization and the application of small data and MyData—discussed in Section "Small data and MyData") that is most suitable for the patient under consideration. It is also important to address the issue of fragmentation for different NGOs and field health workers responding to a crisis. So that data collected by different organizations or teams can be corroborated to avoid double response in which two entities redundantly respond to the same problem.
An Individualized Health Initiative (Duffy 2015) is taken at Johns Hopkins University aimed at collecting, integrating, analyzing and sharing patients' data among healthcare providers for better and more informed decision making. Collecting data from a large population having a same disease helps in analyzing and building computational models through which a new patient with similar early symptoms can be categorized more accurately and put on the right track of medication at early stages of an ailment. An example of this process can be the treatment of prostate cancer (Duffy 2015). In the usual course of medical treatment, most of the patients are put on a similar regimen without properly analyzing risk factor of the disease. As it can happen that a person has a tumor that might not grow big enough during the course of his lifetime that would further endanger his life. Still such a patient is passed through the rigors of the cancer treatment, suffering many unnecessary side affects and mental agitation. This is what doctors call an overdiagnosis. Imagine a situation where there is a lot of related data of many similar cases in a database and a computational model is present that can categorize a patient and predict a potential trajectory that his current state of disease will follow. In this way, a lot of hassle can be avoided and a personalized course of treatment can be prescribed. This approach eliminates the guess work, that is solely performed based on a medical practitioner's memory and replaces it with computational reports crafted after integrating huge amounts of data from various related sources that range from pathological clinical tests to diagnoses from different medical experts.
There is a healthy aspect of democratization of health data (Lohr 2015), which implies that by combining medical and the data science, the study of disease has the potential to flourish. This can lead to a coverage that involves a whole country to construct a Learning Health System (LHS) (Friedman et al. 2014) in which stakeholders from government, healthcare, engineering and technology are brought together to analyze the prevailing health situation/emergency, in a country, more accurately and fight diseases/epidemics fast. The creation of such ecosystem will have the capability to establish an environment in which research and clinical practice are not performed in isolation; instead new research and analysis are directly applied to patients in a near real-time manner. If we expand this notion, then the whole world can be monitored and the present state of any of the world's countries health can be analyzed and the early warning signs of imminent viral epidemic outbreaks can be predicted and/or detected.
IBM's Watson has been developed by the IBM as the realization of a fully advanced cognitive computing system. Watson, as opposed to the current AI-based computing mechanisms, does not look for key-words in a line of text to make decisions. Watson combines machine learning, natural language processing, and statistical analysis (IBM 2015) to glean context-based information from all the data that is fed into it. One of the most important applications of Watson is expertise scaling and democratization, especially benefitting the healthcare field. It manages information and bridges it among the experts of a field helping them to make more informed and relevant decisions quickly.
Why big crisis data analytics is challenging?
The "Vexing Vs"
The technical challenges associated with processing big data have traditionally been summarized using the four Vs: (1) volume (large amounts of data that cannot be processed on a single machine or with traditional database tools); (2) variety (data in many formats: structured, semi-structured, and unstructured—with mostly the data being unstructured); (3) velocity (streaming data, with milliseconds to seconds to respond); and (4) veracity (uncertainty in the data being "true" or consistent with reality). With big crisis data (such as social media), the list of "vexing Vs" is even longer: we also have to deal with (5) vagueness (dealing with natural language); (6) virality (understanding cascading crisis information); (7) volunteers (motivating and coordinating digital volunteers); (8) validity (mitigating the biases and pitfalls of social media); (9) values (ensuring privacy and ethical use of crisis data); and finally, (10) visualization (how to best visualize big crisis data such as crisis maps). We will cover some of these vexing Vs next; for the sake of brevity, we focus only on a subset of these challenges.
Policy challenges: ensuring privacy and preventing abuse
The field of big data promises great opportunities but also entails some great risks of abuse and misuse. With big crisis data, there is always the danger of the wrong people getting hold of sensitive data—something that can easily lead to disastrous consequences. For example, PakReport.org had to restrict access to its crowd sourced crisis maps after the Taliban had threatened to use that data to target humanitarian organizations (Chamales 2012). The importance of ensuring data privacy and protection can be gauged from the fact that UN Global Pulse has a Data Privacy Advisory Group (Data privacy advisory group). This group involves experts from academia, private sector and civil society so that the protection and privacy of data that is being used for UN Global Pulse's missions is ensured. The development of appropriate policy can help manage this dilemma between the opportunities and risks of big data. Some of the big questions that big data policies should address are: (1) what data to open up? (2) who should be able to access which data? (3) which data should be publicly accessible? (4) how can the data be used, reused, repurposed, and linked? The devised policies must also include prescriptive steps that ensure that data is used ethically (and not misused by malevolent actors and crisis profiteers). In particular, we should take steps to ensure that crisis victims do not expose themselves or others to further harm unwittingly (e.g., in countries beset with a civil war, or sectarian violence, a request for help with personal information may also be used maliciously by malevolent actors for violent purposes).
The above discussion stresses the need for a formal framework to be developed in which data can be used responsibly in humanitarian actions. The notion of establishing a standard framework that could be applicable across the board goes further than individual assurances of data privacy and protection by NGOs and similar entities. A recent report by UN's Office for the Coordination for Humanitarian Affairs (UN-OCHA) (
Think Brief: Building data responsibility into humanitarian action 2016
) stresses the need for standard set of principles and processes that will ensure the responsible use of data by all for humanitarian purposes. Specifically, the report outlines a four-step process that can be followed to achieve data responsibility:
1.

Context evaluation: It should be emphasized that data must be used given a need and a context not just because it is available to use.

2.

Data storage: Questions related to the location, security and access of the data should be answered properly.

3.

Risk assessment: The vulnerabilities in data should be pre-assessed.

4.

Risk mitigation plan: From the assessment performed in the above step effective and fool-proof measures should be taken to minimize any future risks.
Uneven data and digital divide
Among other issues, digital divide (Hilbert 2011) is related to the uneven proliferation of technology through out the world. The result of this divide could harm nations that lack the infrastructure, economic affordability, and data-savvy faculty. This unevenness, among other issues, poses a challenge for privacy as well. The concept of information asymmerty is important to ensure privacy in today's big data culture (O'Leary 2015). Information asymmetry implies that all the entities that gather user data to analyze, should ideally be limited in gaining insights about their users. The author in (O'Leary 2015) first discusses the uneven nature of big data in the perspective of well known big data Vs (volume, velocity, veracity, and variety). This uneven nature of big data inherently introduces a bias that could further lead to inefficient data analysis. As an example, if we consider the volume aspect of data then it could happen that some individual leaves sparse digital footprint (may be because of her personal habits of technology usage) as compared to a few others, resulting in a non-all-inclusive data analytics that could lead to biased policies. Secondly, there are various approaches that act in reducing the information asymmetries and hence these are potential privacy caveats, such as corroborating different information items from various sources can potentially reveal insights about an individual or an organization (which it never meant to make public) that can harm its privacy (O'Leary 2015).
Future directions for big crisis data analytics
Real-time crisis analytics
During disaster response, time is of paramount importance (for example, in the case of an earthquake, first responders can typically rescue someone trapped under the rubble in the first few days after which factors such as dehydration, untreated injuries will likely take toll). While it is true that these massive amounts of data can play a big part in providing clues to the best way to respond to a situation, accessing the right data entails the challenging task of sifting through the date deluge and filtering out the required information in real time. To complicate the big data analytics problem (which is akin to the problem of finding a needle in the haystack), the data quickly becomes out of date due to a rapidly and dynamically changing environment (and thus our problem becomes more difficult: the needle in the haystack has to be found in real-time). Futhermore, as time passes, the data may not only become useless, but can also be harmful (e.g., the limited resources of the disaster response may be incorrectly routed due to wrong information).
Real-time big data analytics can have many applications for enhancing disaster response. In many cases, various crises have many cascading stages in which one problem may trigger other problems (e.g., a tsunami approaching a nuclear power plant). In such scenarios, real-time analytics can help prioritize the most urgent problems before any further damage is caused. Critical information can also be broadcasted to the public (e.g., using radio technology or through SMS) so that any preventable follow-up hazards are thwarted. In addition, real-time analytics can assist aid organizations and first responders to coordinate with other stakeholders.
Secure, reliable, disaster-tolerant crisis analytics
There is a need to develop highly secure and reliable, real-time, crisis response infrastructures. Given the critical nature of crisis situations, it is important to ensure that big crisis data computing and analytics systems are highly disaster-tolerant (in terms of reliability and availability). This requires the system to have foolproof mechanisms to withstand extremely adverse conditions due to natural disasters such as flooding, earthquakes, physical damage to infrastructure, power outages, etc. It is also important to ensure proper authentication, authorization, and accounting. This will be important since we would like only authorized emergency personnel to have remote access to resources (in the case of tele-operation such as tele-health) and sensitive data (such as the location and identification of affected people). We also need mechanisms that will ensure integrity of the data so that we are confident that the correct data is being used to drive the emergency response.
A combination of mobile technology and cloud computing (in the form of mobile cloud computing) can be useful here as cloud computing naturally complements big data technologies and is well-suited for reliable storage and analysis of big data. However, since the weakest link is the bottleneck for security, reliability, and availability, a number of technical issues need to be worked out for the desired solution: in particular, we have to pay equal attention to the security and reliability of the cloud infrastructure as well as the edge devices that may be acting as sensors. This requires the usage of redundancy as well as diversity at all the architecture components (such as the computing, storage, communications, sensing, and power components). Special attention should be paid to the power issue: many onsite communication/computation devices (such as smartphones) continuously need battery charging or will otherwise cease to function. System architects of crisis informatics systems should incorporate these factors into the design of their applications.
AI-based predictive/context-aware crisis analytics
Big crisis data analytics can be performed to answer various kinds of questions. Most of the work on crisis analytics has been hindsight-focused, including works on Descriptive Analytics (to answer "what happened or is happening?") or Diagnostic Analytics (to answer "why did it happen?"). Relatively little work has focused on forward-looking analytics such as Predictive Analytics (to answer "what will happen?") and Prescriptive Analytics (in which we answer "how can we make it happen?"). With predictive and prescriptive crisis analytics, we can obtain accurate advance information on developing disasters in an easy-to-understand and reliable way, such that the affected community can accept and act on the data. Some data science-based works have been proposed in literature for predicting impending conflicts or crises. As an example, Perry et al. have proposed predictive policing mechanisms for crime forecasting as a tool for riot/violence mitigation (Perry et al. 2013). Predictive policing involves statistical analyses in order to provide indicators to law enforcement agencies that they can intervene a potential criminal situation or solve a past crime. Applied mathematics, statistical physics and network science (Barabási 2013) can also be used to better understand and model the dynamism of criminal activities and thereby using predictive policing to prevent crimes from happening (D'Orsogna and Perc 2015). Mohler et al. provide an example of it in which they relate crime to earthquakes in nature, which are recurrent, and model it with Epidemic Type Aftershock Sequence (ETAS) point process. It has been shown to perform better than the traditional methods used by criminal analysts by 1.4–2.2 times (Mohler et al. 2015). Similarly, concepts specially from statistical physics and network science (Barabási 2013) can be used to model the behavior of epidemics and methods of predictive policing can be deployed to fight the spread of such diseases. However, extreme care should be taken while deploying the predictive policing methods particularly to prevent crimes. False positives in such processes can aggravate the situation even more. There are risks of specific ethnic/racial groups being falsely detected as the targets by a particular algorithm. Some security experts are of the view that infrequent criminal activities (such as terrorist attacks) cannot be efficiently predicted using data mining (Schneier 2015). Good quality prior data is a must, i.e., there needs to be a significant instances of events related to a criminal activity. In the case of terror attacks, as an example, this is not always the case. Hence the error rate in detection could be large. Another challenge is the presence of unique events in data, which do not correlate strongly to the past events, and since machine learning and data mining fields mostly make decisions based on past occurrences of an event that could potentially lead to false positives.
With the advances in AI, and the widespread availability of Internet and GPS with smartphones, it is possible (assuming that legal and policy issues can be suitably addressed) to push out context-aware personalized crisis information to the crisis prone or crisis affectees (e.g., using AI for automated processing and SMS for dissemination). A possible scenario is an earthquake: a simple application could be to send out notifications according to the information about the earthquake's epicenter and the location of the user; in more advanced applications, other sources of data (such as information on a social network) can be integrated to create applications that leverage knowledge about location of the user and the user's friends to push messages to the user and his/her friends. Facebook already offers a similar social networking based application called "Safety Check" that users can use to inform and know about the safety of their friends and family after a disaster. For phones with active users, appropriate escape routes could also be pushed out to users using facilities such as the Google Crisis Response.
Multimodal big crisis data informatics
Big crisis data incorporates both very large data and also a large number of sources of data (that may be providing diverse kinds of data). Each of these big crisis data sources provides a unique (but necessarily incomplete) window to onsite developments. As popularized by John Godfrey Saxe's poem on "the blind men and the elephant", it is true that different experiences of the same reality can lead to different perceptions. This poem tells a story of the six blind men who went to "see" an elephant and ended up in complete disagreement; the poem goes on to say that the six blind men "disputed loud and long, each in his own opinion; exceeding stiff and strong, though each was partly in the right, and all were in the wrong!". This highlights the dangers of siloed big crisis data analytics. To obtain more complete understanding of the reality of the crisis, it becomes important that we tackle the challenging task of reconciling and combining the various distinct modalities of crisis information (such as text, images, speech, video, maps, crowdsourced and formal reports). This field of multimodal big crisis data analytics defines the real frontier of research in big crisis data analytics and promises to be a fertile area of future research in the overall field of crisis informatics.
As an example the Humanitarian Data Exchange (HDX) (Humanitarian Data Exchange) is an open platform where humanitarian data can be shared, accessed and analyzed to gain insights into a crisis. Recently the HDX team has provided the facility to analyze multiple datasets related to a crisis together to get a better and bigger picture of the dynamics of a crisis. They have developed a 'map explorer' prototype which allowed to analyze the Lake Chad Basin crisis by visually exploring the relationships between diverse datasets such as related to displacement, population fatalities, conflict locations, humanitarian funding and food security etc. Another similar effort is by World Food Programme with the name of "mobile Vulnerability Analysis and Mapping (mVAM)" (mVAM). This project collects data remotely using brief surveys conducted using SMS, telephone calls and Interactive Voice Response (IVR) system and then corroborates these data streams to provide visual reports that are important to understand the status of food security in different regions of the developing world.
Conclusions
This article has reviewed the use of big data analytics for processing and analyzing big crisis data. We discussed which technologies can enable a efficient data driven crisis response. We also outlined various sources of big data that can be utilized to gather useful information related to a crisis. We have highlighted the current state of the art along with some future directions with a discussion on the accompanying challenges and pitfalls.
As we observed in this article that even though big data can provide the answers to the most important questions facing modern humanitarian response, reaping the full benefit of big crisis data requires work on many different fronts. It must be understood that big crisis data analytics is but one cog in the entire crisis informatics ecosystem. With many stakeholders in the crisis response ecosystem, there is also a need of harmonic smooth handover of responsibilities. A friction-less interworking of various stakeholders should be aimed at by incorporating big crisis data analytics for the Linking Relief, Rehabilitation and Development (LRRD) process (which is focused on ensuring the interworking of humanitarian aid and medium- and long-term development organizations).
Endnotes
1 A solution based on the digital currency Bitcoin named BitNation has been developed to provide banking for the refugees and the crisis affectees (https://refugees.bitnation.co/).
2 According to International Telecommunication Union (ITU), by the end of 2013, there were almost as many mobile-cellular subscriptions as there are people (7~ billion). The estimated number of active mobile-broadband subscriptions was 2.1 billion in 2013 (approximately, 1 in every 3).
Declarations
Open Access This article is distributed under the terms of the Creative Commons Attribution 4.0 International License (http://creativecommons.org/licenses/by/4.0/), which permits unrestricted use, distribution, and reproduction in any medium, provided you give appropriate credit to the original author(s) and the source, provide a link to the Creative Commons license, and indicate if changes were made.
Authors' Affiliations
(1)
Electrical Engineering Department, Information Technology University (ITU), Lahore, Pakistan
(2)
King Faisal University, Hofuf, Kingdom of Saudi Arabia
(3)
University of Groningen, Groningen, Netherlands
(4)
Computer Laboratory, University of Cambridge, Cambridge, UK